After taking to the streets one year ago, organizers are back with an ambitious new agenda: get more women on the ballot and in the voting booth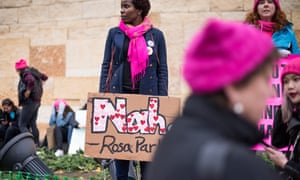 A year ago, more than 1 million people took to the streets in cities around the US wearing pink knit "pussy hats" and waving wry placards, in an extraordinary display of dissent against a newly vested president. Then, after the rousing success of the march, organizers were left with the inevitable question: what next?
On Sunday, the first anniversary of the march, the organizers will head to Las Vegas to launch "Power to the Polls", a national voter registration and mobilization tour that will target swing states ahead of the 2018 midterm elections.
"We started 2017 with perpetual outrage and now we are at the moment when we have perpetual outrage, plus a plan in place for 2018," Linda Sarsour, a co-chair of the Women's March, told the Guardian.
Meanwhile, women and supporters of the liberal movement around the world will return to the streets this weekend in opposition to Donald Trump. The largest protests are expected in Washington, New York and Los Angeles.
Sarsour said reclaiming liberal majorities in the House and Senate is the best – and only – way to stop Trump's agenda. The Women's March intends to endorse female and progressive candidates in 2018, and to partner with local organizations to register new voters and increase engagement.
"One year ago, we had millions of people marching in the streets of the streets," she said. "The idea is that we march the same people and their families and their friends to the polls in 2018."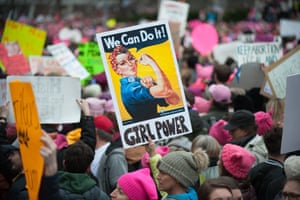 The Las Vegas venue was a deliberate choice. On 8 November 2016, Nevada, a swing state with an increasingly diverse electorate, voted for Hillary Clinton and elected Democrats up and down the ballot, a bright spot during an otherwise devastating night for liberals. It's poised again to be a battleground state in 2018.
This year, Democrats hope to pick up a Senate seat and reclaim the governor's mansion, energized in part by the state's substantial Latino population, many of whom have a stake in the changes to the US immigration system.
Sustaining the movement
Last year, the decentralized movement touched off a flurry of activism. Liberals mobilized against the administration's travel ban and an attempt to repeal the Affordable Care Act, and ushered in a wave of progressive victories, including electing a Democrat to the Senate in Alabama. Liberal organizations have reported record-breaking outreach from women interested in running for office – or from people eager to help women win office.
In October, thousands of women attended a convention in Detroit, attending trainings sessions for candidates and others on coalition building and countering white supremacy. It also paved the way, organizers believe, for the #MeToo moment, a social upswell in which women have come forward to share experiences of sexual assault and harassment.
In mobilizing the so-called "resistance", this sprawling movement has also given rise to new groups, such as March On, which is concentrated on winning back Democratic majorities in Congress this year.
"How do we take the spirit of the Women's March – in its positivity, in its exuberance, its intergenerational nature, in its women-led nature – and how do you aim it at elections in a way that will move the needle politically?" asked Vanessa Wruble, the executive director of March On and an organizer of the 2017 Women's March on Washington.
On Saturday, the group will launch a national poll in an attempt to crowdsource a political platform, and to shape their political strategy in 2018. March On expects to endorse candidates.
"Anything we want to achieve within this movement is not going to happen until we have the right people in government," Wruble said, "so let's first focus on getting the right people into office."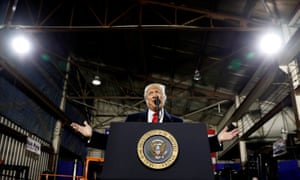 Gwen Combs, an elementary school teacher in Little Rock, Arkansas, is one of the women hoping to bring a Democratic wave that topples Republicans from their majority in Congress.
Combs spent much of the presidential election biting her tongue. Barred from discussing politics in the classroom, the teacher couldn't answer her students' questions about what a Trump presidency might mean for an immigrant parent or a minority classmate.
After the election, she was demoralized and couldn't stop thinking about her students. "It moved me. It moved me to want to make a safer world for these kids," she said.
Like hundreds of thousands of other women, Combs stumbled on a Facebook group for a massive march on Washington. She couldn't afford a flight on short notice, so decided to organize one in Little Rock.
After its success, she heard from the parent of a former student. "Marches are great," the woman told her, "but they're just one-time events. What we really need is a movement not just a moment."
Combs agreed. She is now running for Arkansas's second congressional district.