Attorneys for the family of Manuel Paez Terán, known as "Tortuguita", have disclosed to the Guardian that a local Georgia medical examiner's office has still not completed an autopsy of the 26-year-old nearly two months after the environmental activist was shot and killed by the police.
Among the issues at stake in the high-profile case is the question of whether Terán fired a gun first at officers, although it remains unclear if the autopsy would provide this information. Paez Terán died as police raided a camp in a forest near Atlanta, Georgia, near the construction site of a massive police and fire department training facility known as "Cop City".
Paez Terán's death was the first killing by police of an environmental activist in US history and has helped propel the protests over Cop City into the headlines across the US and the world.
Civil rights attorney Wingo Smith, a member of a firm representing Paez Terán's family, said he learned the news in a brief phone call from Patrick Bailey, director of the Dekalb county medical examiner's office. The director said an autopsy report would be available in several weeks, Smith said.
Bailey told said that the final report, when completed, would be forwarded to the Georgia bureau of investigation (GBI) and, possibly, a special prosecutor.
The news comes as a surprise given the level of public interest in the case. It also remains unclear what work remains undone, given that Paez Terán's family recently scattered Tortuguita's ashes over the forest the activist was defending.
Bailey said there could be other details being gathered, such as toxicology or other reports and an "internal review".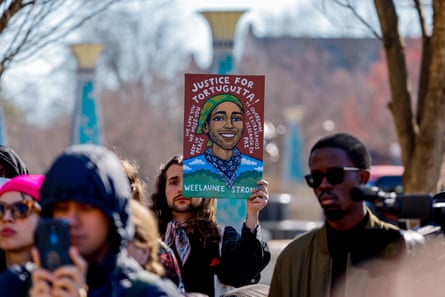 On Monday, Smith and his colleagues, flanked by Paez Terán's family members, announced their own independent autopsy results as well as his firm's lawsuit against the city of Atlanta in pursuit of video and audio recordings made during the multi-agency raid on 18 January at the forest south-east of Atlanta where police shot and killed Paez Terán.
The family-ordered autopsy appeared to show that the activist was sitting cross-legged, with their hands in front of their face, when hit by a hail of bullets. "Manuel was looking death in the face, hands raised when killed," civil rights attorney Brian Spears said.
The lawsuit and conversations with the Guardian reveal how the firm, and by extension Paez Terán's family, have been rebuffed in nearly all pursuits of information from the city, county and state agencies involved in the raid. This includes a lack of response from the medical examiners' office to a 7 February request to see preliminary autopsy findings and to have the family meet with the agency, according to Smith.
"Getting information is tremendously difficult, and it really hurts families," Smith said.
The activist and others were camped in protest against Cop City, as well as a former film studio owner's plans to convert 40 acres of public park into private land. Paez Terán was camped in the public park part of the forest on the morning of 18 January when they were woken by dozens of officers in a raid that included Atlanta and Dekalb county police, the Georgia state patrol and the GBI.
Soon after, the GBI, tasked in Georgia with investigating police shootings, revealed that the state patrol officers involved were not wearing body cameras. The GBI also began what would become piecemeal releases of evidence that support the state's version of what happened: that Paez Terán had a gun and fired first, wounding a state patrol officer.
The family's independent autopsy sheds no light on this allegation, and mentions that Paez Terán's body was washed during the first autopsy – without clarifying if that would remove any evidence of having fired a gun.
The Guardian asked Werner Spitz, a veteran pathologist, to review the autopsy ordered by Paez Terán's family. "There's no question the police went into this encounter with the determination to kill this man," said Spitz, who has played a role in cases ranging from Martin Luther King's death to the OJ Simpson trial.
As for the news regarding the unfinished Dekalb county autopsy, he said: "It's wrong and uncalled for to not relay information to the general public."
All along, attorneys for Paez Terán's family have requested access to evidence – including preliminary autopsy results. In most cases, they received no reply. Several agencies denied requests by claiming that because the investigation into the shooting was ongoing, they were exempt from open records laws.
The department of public safety replied to requests on 31 January, 25 February and 9 March, promising each time to comply in a matter of weeks, according to the family's attorneys. Records have yet to come from that agency.
Paez Terán belonged to a group of forest defenders who have been the most visible manifestation of a broad-ranging movement to defend the South River forest since the Cop City project was announced in 2021. But opposition to placing the public park into private hands and converting part of it to a police training facility has also come from Atlanta preschool families, local and national environmental groups, Black-led organizations, scientists, Atlanta-area academics, HBCU students and others.
The police and local political response to the protests has seen the first use of state domestic terrorism charges against environmental activists. To date, more than 40 people have now been charged in connection with acts of vandalism including destroying construction equipment, considered by the state to merit domestic terrorism charges.
As for the autopsy, "everyone deserves to know how government operates – especially in this case, a high-profile matter of public interest," said Smith. "We deserve to know what really happened that day."