Manny Marroquin is the most humble hitmaking powerhouse mixer in the business. With eight Grammies to his name so far including the rare feat of winning a trio last year in three different categories (Best Urban: Rihanna, Best R&B: Alicia Keys, Best Pop: Bruno Mars), the Guatemalan born family man may add a ninth on Sunday as he is nominated for the Record of the Year Grammy with Sia's Chandelier. In addition, he mixed what is currently the Oscar frontrunner for Best Song, Glory from the film, Selma, which also won the Golden Globe this year for Best Song. Add to that the fact that two of the top three iTunes songs this week (Four Five Seconds by Rihanna, Kanye West and Paul McCartney, and Shots by Imagine Dragons) were mixed by his hands, and you'll understand why Manny is the man.
Manny Marroquin (courtesy of AEFPR):

I had the honor of having Manny tour me through his home base for the past fifteen years, the state of the art Larrabee Studios in North Hollywood, California — perhaps the finest mixing spaces in the country. And much like Manny himself, the building has a completely unassuming exterior — but what lays on the inside is incredible. The history of pop (Seal, Chicago, John Mayer), rock (Don Henley, Steely Dan, Santana), R&B (The Pointer Sisters, Usher, John Legend), hip-hop (Eminem, Kanye, Common), even the soundtracks to Beaches and Dreamgirls were recorded here — and that's just scratching the surface. While I was there Joe Jonas was busy working in the next room with his recording team.
I showed Manny the partial list (according to Wikipedia) of his discography — he quietly and almost bashfully smiled looking at it.
The odds were against me in the beginning. This kid from Guatemala, and I was given a few small shots back at Hamilton High School near where National meets the 10 Freeway in L.A. At that time being the mixer was not cool. When I was beginning, there was not one Latino mixer or engineer – and today there's a ton of up and coming Latino mixers. And in a roundabout, not full of myself way, I think I have helped with that. I get more satisfaction from opening doors to younger mixers than anything – even more than winning another Grammy.
Manny Marroquin at Larrabee Studios (photo courtesy of AEFPR)


Through recording history, mixers have been a little under the radar, but with any record you've ever heard, there are three key people involved: the artist/songwriter, the producer, and the mixer.
Our job is not just to make the song sound better – we wear many different hats. We are the guys who put it all together. I wear a manager hat, a producer hat, and engineer hat. People don't often understand what the mixer does. It's like taking a painting and saying "this red is distracting from the landscape." We are the sonic and mood aesthetics. I think of myself as an emotional mixer – I want the sound to feel a certain emotional way. A mixer's job is to make it sound better, but making a song sound better, for me, is not enough.
One of Manny's strengths is in working calmly and productively with a challenging superstar recording artists.
Artists can be very insecure. And part of my job is to massage a situation. I have had many times where an artist can be downright difficult, and you just have to stay focused and work with that. We have to be sensitive to the artists whether they are right or not. There is no day off here. You have to be perfect in the mixing room every day.
Manny at the Larrabee Studios piano (photo by Xaque Gruber)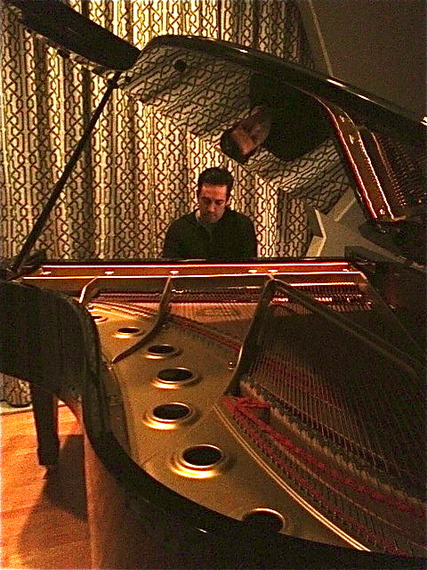 I try to learn one little thing from every artist. About ten years ago, Common gave me the best advice – I asked him how every day he is so nice, and he said "every time I meet someone, even if I don't like them, I try to focus on the positive thing. And I always look at their positive side." I've applied this to my mixing. I'm often asked "how do you mix a song that you don't like?" And I find the one thing that I like – it might be the high hat drum, and I work the sound around that high hat drum. And so there can't be negative thoughts in my head about a song or an artist or it's a disservice to the song.
We chatted about this year's Grammy Record of the Year nominees, and though he has been nominated in this category at least ten times before, he has never won. He feels particularly close to the Record of the Year nominee he mixed this year, Chandelier by Sia.
This nomination has been very special because I love Sia – her voice, her music, the stuff she did with Zero Seven. When I first heard Chandelier – I had the lyrics, which are about these lost party girls who are addicts/alcoholics. This is her time – she's already had at least a decade of great music. Chandelier is a conscious, smart song. I hope it wins.
Grammy Record of the Year nominee Chandelier by Sia, Mixed by Manny Marroquin
Though the mixer/engineer is unfortunately not recognized at the Oscars if the song wins (the Academy Award goes to the artist, producer and songwriter), Manny is proud and thrilled to have been the one to mix Glory from Selma.
Common called me from Europe, and said "Manny, I've got a very special song and want to fly out to mix it with you." After I mixed it, he was sitting next to me in the studio, and was so emotional – I thought he was going to cry. He was in Heaven. And we sent it to John Legend, and John loved it. Paramount called me the next day for the files. I knew we had something very special.
Academy Award Nominated song Glory (from Selma) by Common & John Legend, Mixed by Manny Marroquin
Later this year, Manny will be teaching the art of mixing workshops in Europe. He has been doing this annually for the past several years, and mixers from all over the globe gather to learn from him. He is also expanding his business by working on bringing live music and delicious food to a space close to Larrabee Studios.
I feel very fortunate. I've worked very hard for everything and always stayed focused. This is a business where ten percent of the mixers make ninety percent of the music on the charts. It's a tough business. I remember being a young guy in the mixing room and Whitney Houston walked in. This was for her single Heartbreak Hotel. I was like oh my God, that's Whitney Houston. She was incredible. Another star that really impressed me was Gladys Knight – I adore her. First of all her voice is unbelievable, I was about nineteen. She was so polite, nice, professional, and giving in what is a very tough entertainment world. You know an artist the moment they walk through the door. You feel it. I'd love to work with Radiohead. OK Computer is one of my favorite albums ever.
(Radiohead, are you listening?)
For more on Manny, check out
http://www.mannymarroquin.com/