Hong Kong riot police have fired teargas and deployed water cannons on pro-democracy demonstrators in the latest episode of political unrest to roil the city.
Tens of thousands of demonstrators defied a police ban and marched in Hong Kong, streaming toward the seat of the government, chanting "Resist Beijing, liberate Hong Kong".
Hundreds had gathered outside the government headquarters, setting up barricades and chanting: "Reclaim Hong Kong!" Some were throwing rocks and molotov cocktails. Riot police fired teargas from a footbridge, while a water cannon sprayed protesters and reporters with blue dye, meant to identify demonstrators for arrest later.
In a statement the police said they deployed teargas and "crowd management vehicles" on demonstrators participating in an "unauthorised assembly".
Crowds of demonstrators marched earlier in the day, holding up their right hands in reference to the five demands of the protesters, which include for greater democracy for the city. Some held pictures of the stars of the Chinese flag arranged in the shape of a swastika or the word "Chinazi".
Police had banned the march, citing the risk of potential violence. Activists said the ban, the latest of several police measures against such rallies, was a sign that freedom of speech and assembly were under attack by the government, backed by Beijing.
"If we fail this time, we will not have a second chance. Our civil society will be repressed by the Chinese Communist party. So we have to keep going," said Gerald Chan, 24, a master's student who was wearing reflective goggles and held a shield improvised from street signs.
For the past three months, Hong Kong has been gripped by its most serious political crisis in decades, triggered by a proposal to allow extradition to mainland China.
Hong Kong's leader, Carrie Lam, has said she will permanently withdraw the controversial bill but the demonstrations have expanded to take on new demands, including an independent investigation into the police and implementation of universal suffrage.
Confrontations between police and protesters have grown increasingly violent, with police deploying water cannons, teargas and rubber bullets as well as beating protesters with their batons. Demonstrators have responded by throwing petrol bombs and bricks as well as vandalising public transit stations.
"This is not the Hong Kong we know," said Tim Cheng, 42, a father of two, who said the demand he most wanted to see met was the inquiry into police behaviour. "When I was young, my parents and teachers told me that if I was in trouble to contact the police. Now I can't tell my kids that."
Sunday's march came after ugly scenes of brawls between anti-government and pro-Beijing demonstrators on Saturday, marking the 15th consecutive weekend of mass protests.
Earlier on Sunday, hundreds of pro-democracy protesters gathered outside the British consulate in Hong Kong, chanting "we will not surrender" as they called on the UK to come to the aid of the former British colony.
Demonstrators waved the union flag, sang God Save the Queen and chanted "Stand for freedom, stand with Hong Kong" as they sought to bring attention to their calls for democracy in the semi-autonomous territory, which was handed over to Chinese control in 1997.
China has called the handover agreement signed by the UK and China in 1997 – the Joint Declaration – a "historical document" with "no practical significance".
Chinese officials have lashed out at the UK for signalling its support of Hong Kong. A UK Foreign Office spokeswoman in June said the document was a "legally binding treaty … that remains as valid today as it was when it was signed".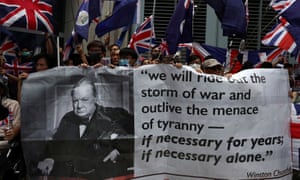 Some Hong Kong demonstrators, looking for a way to leave the city, have been calling on the UK to extend the rights of British national overseas (BNO) passports to include the right to live and work in the UK. The passports, which replaced the British dependent territories citizens passports held by 3 million people in the lead-up to the 1997 handover, only grant the right to visit the UK for six months.
Last weekend, thousands marched on the US consulate to call on American lawmakers to pass legislation that could potentially sanction Hong Kong officials, in an effort to step up pressure internationally for their cause.
Beijing and pro-Beijing figures in Hong Kong have previously accused foreign powers including the US and the UK of secretly funding and organising the rallies.
On Saturday Joshua Wong, the democracy activist and former student leader of the 2014 umbrella movement in Hong Kong, called on US officials to include Hong Kong and a human rights clause in ongoing negotiations as the US and China try to resolve a long-running trade war.
"We hope … for bipartisan support," Wong told Reuters, adding that he hoped to convince US legislators to pass the Hong Kong Human Rights and Democracy Act, which would implement an annual review of Hong Kong's special status in terms of trade and investment from the US.